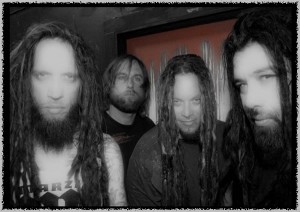 Los Angeles,California, 03/09/2009 — The dark horse rides again! After a 4 year hiatus Skinlab has inked a deal with Stand and Deliver Records.….
The ….California…. based metal band is back in the saddle after a 4 year hiatus, and this time they're pulling out all the stops. The band was formed in 1994, by Singer/bassist Steev Esquivel, former guitarist Mike Roberts and drummer Paul Hopkins. ….
Skinlab quickly made a name for itself in the metal scene, with releases such as, Bound, Gagged and Blindfolded, and Revolting Room. In support of these albums the band has toured with the likes of Slayer, Hatebreed, Fear Factory, and Napalm Death. ….
They are currently in the studio finishing the final tracks to the new album entitled "The Scars Between Us". The album is scheduled to hit stores on July 7th, 2009. The band also plans to release a full length DVD. The release date and title of the DVD have not yet been confirmed. ….
Lead singer Steev Esquivel had this to say about the bands new record deal "We are pleased to announce our signing with Stand and Deliver Records. After spending most of 2008 in negotiations we feel Stand and Deliver is the right home for Skinlab and look forward to releasing this fucking beast of a record on July7th EVERYWHERE!"….
"The ink is barely dry on the contract and they already have several great touring opportunities, it great to add a veteran band like Skinlab to our roster, they have a lot to offer." Says Stand and Deliver Records owner Matt Polena. ….
Skinlab has also joined forces with Red Rocket Entertainment. TKO Booking Agency, and Jagermeister. ….
Stand and Deliver Records is an indie record label located in ….Cleveland.., ..Ohio….. Their current distribution is handled by Uprising/Sony Red, and all digital distribution is taken care of by The Orchard.