GOATWHORE and ABIGAIL WILLIAMS will team up for the "Conquer & Curse Tour 2009″ this summer. Joining them will be DAATH, ABYSMAL DAWN and SUCCESS WILL WRITE APOCALYPSE ACROSS THE SKY.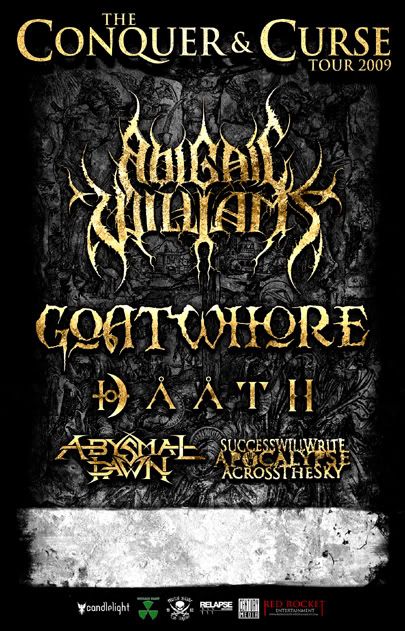 The Conquer & Curse Tour 2009 GOATWHORE and ABIGAIL WILLIAMS will team up for t
Click here to viste the headbangers blog site
According to their record label bio, the motto of Kenosha, Wisconsin band Lazarus A.D. is "thrash or die." So, the dude's must be totally stoked that they're about to hit the road with thrash legends Testament and post-thrash demigods Unearth. The tour launches in Seattle on May 2 and runs through June 15 in San Luis Obispo, California. Lazarus A.D. are currently in the middle of a tour with Amon Amarth, Goatwhore and Skeletonwitch. Those dates run through April 29 in Raleigh, North Carolina.
To celebrate the band's road success and give props to their ripping debut The Onslaught, we're happy to premiere the band's video for "Thou Shall Not Fear." The clip was shot in Milwaukee, Wisconsin at the haunted venue Eagle's Ballroom and was directed by Jason Meudt and Emmet Austin. Click "more" to watch the vid and catch it again on this week's "Headbangers Ball," which runs from 2 to 3 a.m. on MTV2.
Lazarus A.D.'s 'Thou Shall Not Fear' Headbangers Blog Video Premiere Clic
Lazarus A.D. is currently on tour w/ Amon Amarth. Following that tour they will be joining TESTAMENT and UNEARTH on a full US run…Look for updates on www.myspace.com/lazarus1
Lazarus A.D. on tour w/ Amon Amarth Lazarus A.D. is currently on tour w/ Amon
Abigail Williams will be heading out on tour w/ Goatwhore,DAATH, Abysmal Dawn,S.W.W.A.A.T.S. on the Conquer and Curse Tour for info go to www.myspace.com/abigailwilliams
Abigail Williams will be heading out on tour w/ Goatwhore,DAATH, Abysmal Dawn,S.
Red Rocket Entertainment is happy to announce they are officially working with the The Destro Ironclade/Metal Blade. The Destro , we'll be heading to Grafton, Massachusetts to record their 2nd album. with Ken Susi " Unearth". We're looking forward to working with Ken and throwing this massive "as of yet untitled" album out to you all…so keep checking back for videos and other details on the release date and other goodies!!!
Red Rocket Entertainment Would Like To Officially Wellcome The Destro Red Rocke
Rikets to head out on the road in may on the Gunslinger tour going coast to coast..The debut Album will be released this summer on DRT…
Rikets to Hit The Road In May on The "Gunslinger Tour" Rikets to he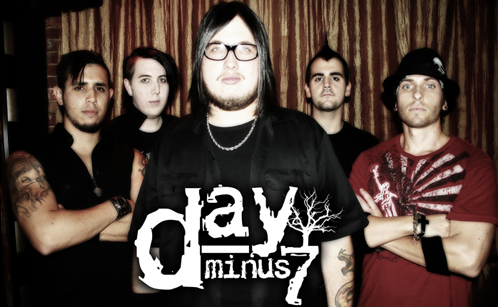 A punch to the face is what radio needs to end the ceaseless mediocrity, DayMinus7 is that punch. The Ft Myers quintet began as two friends in St Petersburg Florida with a dream. That dream of course is to be one of the biggest rock bands of their generation. We are now at the beginning stages of that dream.
Cliff and Eddie worked on projects throughout their youth and teens. Cliff then moved to Cape Coral, Florida, Where he met Cody through a mutual friend. Soon after, Eddie moved down and DayMinus7 was born. The three piece, (with Cliff on guitar) played throughout Florida at local clubs, podcasts, and local radio block parties. As time passed they grew together musically, and Cliff put down the guitar to concentrate on singing. They decided to turn the band into a five piece so they could capture a bigger sound. So began the search for the right two guys. By chance Kit walked into the music store where Cliff worked and started playing guitar. Kit was in the band soon after that. Mike was part of the local music scene. He always seemed to be popping up at gigs and when the guys heard him play they knew right away he was our guy.
The band's sound really came together quickly with Kit and Mike leading the way on guitar in well choreographed melodies and harmonies. Cody's powerful beat keeping time. Cliff's melodic voice and powerful lyrics compliment the music. And tying it all together is Eddie's solid, groove tone. With all this talent coming together, it's no surprise that Dayminus7′s drive, and compelling sound, would catch someone's attention.
Eddie at Red Rocket Entertainment took notice and quickly placed them in the studio with acclaimed Producer Paul Trust who has worked with such bands as Endo, Diecast, EkoTren and Atom Smash to name a few and soon after they begun working on writing the band's debut EP.
Now fresh out the studio the band is set to take on the world. One only has to ask are you ready for DayMinus7…?
Day Minus 7 A punch to the face is what radio needs to end the ceaseless medioc
The Florida based rockers Day Minus 7 has finished tracking 4 songs with Acclaimed producer Paul Trust,
the single "Hate You" should be hitting select radio markets very soon so stay tuned!
for more info and to listen to some of their new songs visit: www.myspace.com/dayminus7
Day Minus 7 The Florida based rockers Day Minus 7 has finished tracking 4 son