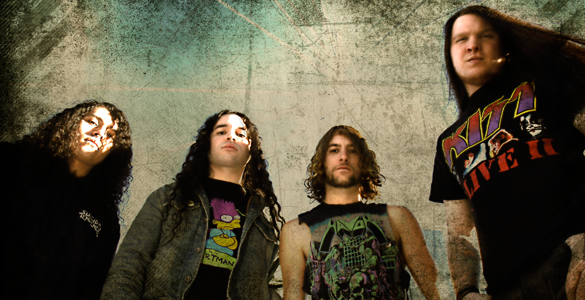 Formed in February of 2004: HAVOK is the thrash metal powerhouse reigning from Denver, Colorado.
"All told, "Burn" is a damn good, consistently written thrash album. My advice is to add it to your list of "Essential Thrash Albums of 2009″."
-Blabbermouth.net 8/10
"A little more technical, a little proggier, a little more epic, and a helluva lot catchier than the stuff their peers are playing. So while every song on the album is guaranteed to give you roadburn, the songs are also dynamic, giving the album excellent replay value."
-MetalSucks.net 4/5
"It's pretty simple. Havok's chops are top-notch, and their creative-within-borders style of songwriting sidesteps the beer-bonged and bong-toked dufus Thrash Metal. That stuff gets cranked out at an alarming rate. This stuff right here doesn't get cranked out enough."
-MetalReview.com 8.3/10
"With the main characteristic of their music being the razor-sharp guitar riffs, the screaming vocals, the strong rhythm section and the excellent melodies, it takes a few minutes to become an instant favorite."
-Metal-Guide.Blogspot.com 10/10
"They've got something a lot of these new bands never have had: chops. The riffing on Burn is fucking killer. It's not your average thrash riffing, but instead it's like taking Reign in Blood and putting it on meth—face-ripping, kick ass riffing that makes you want to thrash like crazy."
-AngryMetalGuy.com 3.5/5.0
Read more: http://www.myspace.com/havok#ixzz13hLxtGtr
Havok Formed in February of 2004: HAVOK is the thrash metal powerhouse reig
More Dates coming soon!
Headlining Dates:
Oct 21 2009 6:00P Hooligans Free Show! Jacksonville, North Carolina
Oct 22 2009 7:00P Jesters Pub Free Show! All Ages! Fayetteville, North Carolina
Oct 23 2009 8:00P The Half Shell Virginia Beach, Virginia
Oct 24 2009 2:00P Championships Show 1 Trenton, New Jersey
Oct 25 2009 2:00P Championships Show 2 Trenton, New Jersey
Oct 27 2009 8:00P Tequila Rocks Huntington, West Virginia
Oct 28 2009 7:00P Miss Q's All Ages! Fort Wayne, Indiana
Oct 29 2009 7:30P Bar 3 Rockford, Illinois
Oct 30 2009 6:00P The Underground Sandusky, Ohio
Oct 31 2009 7:00P The Machine Shop w/ Powerman 5000!! Flint, Michigan
With The Destro and Straight Line Stitch:
Nov 3 2009 8:00P TBA Champain, Illinois
Nov 6 2009 8:00P TBA Norfolk, Nebraska
Nov 7 2009 8:00P Rocky Mountain Hall FT. WASHAKIE, Wyoming
Nov 8 2009 8:00P Downtown Grill CASPER, Wyoming
Nov 12 2009 8:00P Eagles Lodge WICHITA, Kansas
Nov 15 2009 8:00P Click's TYLER, Texas
Nov 17 2009 8:00P Smokin' Aces MCALLEN, Texas
Nov 19 2009 8:00P The Bar METAIRIE, Louisiana
Nov 20 2009 8:00P Pontiac Concert Lounge LITTLE ROCK, Arkansas
Nov 24 2009 8:00P TBA Atlanta, Georgia
New EP Release Party
Nov 28 2009 8:00P The Spot – :::CD RELEASE::: Fort Myers, Florida
EkoTren Upcoming Tour Dates More Dates coming soon! Headlining Dates: Oct 2
Check it out people, TuneLab.com is now streaming this killer EP, if you have not checked out Day Minus 7 yet, well just go to TuneLab and check out their full EP's Now! You wont be disapointed!
Day Minus 7 – http://tunelab.com/2009/10/15/ep-stream-day-minus-7-day-minus-7/
TuneLab.com Now Streaming Day Minus 7 Full EP Check it out people, TuneLab.com