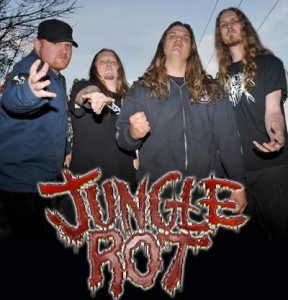 Wisconsin's emissaries of death, Jungle Rot, have unleashed their new video for the new single "Worse Case Scenario" from their critically acclaimed album, "What Horrors Await". The video was directed by Jason Meudt and Emmet Austin of www.Vision4Films.com. The video features crushing old school death metal, leaving nothing but a blood-soaked battlefield in its wake; if you're a fan of metal, you'll dig this video!
Dave Matrise: "As you can tell it was freezing cold when we shot this video. The guys at Vision 4 Films do a great job and I think this video is our best yet. We can't wait to see everyone on the road this summer."
Fans can watch video for Worse Case Scenario on the band's YouTube channel: www.youtube.com/junglerotmusic
Jungle Rot will be heading back out on the road this Summer! Be sure to keep an eye out for upcoming tour announcements.
The band's latest  album, "What Horrors Await", released worldwide via Austria's Napalm Records
The CD was recorded at Studio One in Racine, Wisconsin with longtime engineer Chris Djuricic. Artwork for the release was handled by Gyula Havancsák (DESTRUCTION, ANNIHILATOR, GRAVE DIGGER).
JUNGLE ROT is:
Dave Matrise: Guitar/Vocals
James Genenz: Bass
Geoff Bub: Guitar
Eric House: Drums