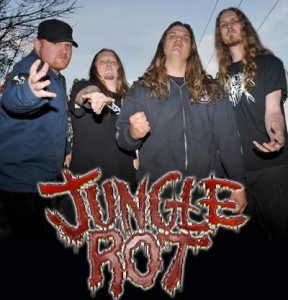 Wisconsin's emissaries of death, Jungle Rot, are taking the fight to the streets this summer. Touring  the US & Canada in support of the band's latest album "What Horrors Await", via Austria's Napalm Records
Support on this trek will come from to up and coming Metal Blade artists:
 "Lightening Swords of Death "& "Woe of Tyrants"
Exclusive pre-sale tickets for Jungle Rot will be available online starting today Monday, May 24th through June 4th at EnterTheVault.com
Beginning June 5th; pre-sale tickets will only be available through normal ticketing outlets.
07/28/10 – Station 4 -St Paul, MN
07/29/10- The House of Rock-Eau Claire, WI
07/30/10-Rave-Milwaukee, WI
07/31/10-Reggie Rock Club-Chicago, IL
08/01/10-Blondie's-Detroit, MI
08/02/10-Pirates Cove-Cleveland, OH
08/03/10-Emerson Theater-Indianapolis, IN
08/04/10-Opera House-Toronto, ON
08/05/10-Petit Campus-Montreal, QUE
08/06/10-Rocko's-Manchester, NH
08/07/10-Championship Bar and Grill-Trenton, NJ
08/08/10-Budda's Place-Newport News, VA
08/10/10-The Muse-Nashville, TN
08/12/10-Emo's Alternative Lounging-Austin, TX
08/13/10-Marquee-Tulsa, OK
08/14/10-Renos Chop Shop-Dallas, TX
08/15/10-The War Legion Underground-Amarillo, TX
08/16/10-U.B.'s Bar-Mesa, AZ
08/17/10-Ramona Mainstage-Ramona, CA
08/18/10-Whiskey a Go Go-West Hollywood, CA
08/19/10-Modesto Virtual-Modesto, CA
08/20/10-Satyricon-Portland, OR
08/21/10-El Corazon-Seattle, WA
Jungle Rot recently released the new video "Worst Case Scenario" The video features crushing old school death metal, leaving nothing but a blood-soaked battlefield in its wake; if you're a fan of metal, you'll dig this video!
Fans can watch the new video for Worst Case Scenario on the band's YouTube channel: www.youtube.com/junglerotmusic
JUNGLE ROT is:
Dave Matrise: Guitar/Vocals
James Genenz: Bass
Geoff Bub: Guitar
Eric House: Drums