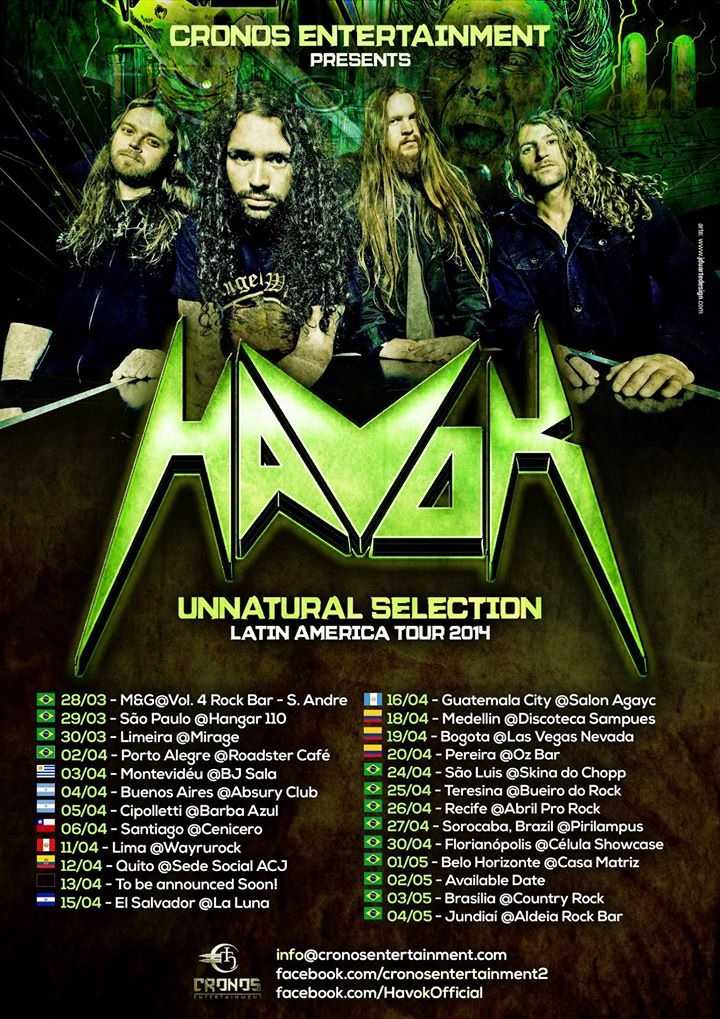 Denver thrashers HAVOK today announce their first headlining tour of South America. Dates are set to commence March 28th and will see the band journey south, cris crossing the great continent of South America with a first and final stop in Brazil. Havok has been touring the world in support of the band's latest album, Unnatural Selection.
Unnatural Selection, the band's third full-length album for Candlelight Records, was produced by guitarist David Sanchez and mixed by Terry Date (Pantera, Overkill, Deftones). The album features original artwork from Polish illustrator Rafal Wechterowicz (Slayer, Mastodon) and was mastered by James Murphy (Testament, Death,Lazarus AD).
For a full list of dates visit the band's official Facebook Here.
HAVOK, called "the finest thrash band in existence" by PopDose, released their full-length debut, Burn, in 2009. Time Is Up would follow in 2011. "HAVOK have hit their stride," said Decibel Magazine. "HAVOK is everything that is great about thrash," added Terrorizer. Confirmed HAVOK dates at press time are included below.
HAVOK:
03/28 – Meet & Greet @Vol. 4 Rock Bar – SANTO ANDRÉ
03/29 – São Paulo @Hangar 110
03/30 – Limeira @Mirage
04/02 – Porto Alegre @Roadster Café
04/03 – Montevidéu @BJ Sala
04/04 – Buenos Aires @Absury Club
04/05 – Cipolletti @Barba Azul
04/06 – Santiago @Cenicero
04/11 – Lima @Wayrurock
04/12 – Quito @Sede Social "ACJ"
04/13 – To be announced Soon!
04/15 – El Salvador @LA LUNA
04/16 – Guatemala City @SALON AGAYC
04/18 – Medellin @Discoteca Sampues
04/19 – Bogota @Las Vegas Nevada
04/20 – Pereira @Oz Bar
04/24 – São Luis @Skina do Chopp
04/25 – Teresina @Bueiro do Rock
04/26 – Recife @Abril Pro Rock
04/27 – Sorocaba @Pirilampus
04/30 – Florianópolis @Célula Showcase
05/01 – Belo Horizonte @Casa Matriz
05/02 – Available Date
05/03 – Brasilia @Country Rock
05/04 – Jundiaí @Aldeia Rock Bar
HAVOK is guitarist/vocalist David Sanchez, bassist Mike Leon, guitarist Reece Scruggs, and drummer Pete Webber. The band uses/endorses ESP Guitars, Charvel Guitars, EMG Pickups, Ernie Ball, Peavy Amplification, EVH Amplification, Pearl Drums, Trick Drums, and Sabian Cymbals.
For more information contact Demetri Benoist (demetri@redrocketentertainment.com) or Eddie Karam (eddie@redrocketentertainment.com)
http://www.facebook.com/HavokOfficial
http://www.youtube.com/user/HAVOKthrash
www.havokband.com